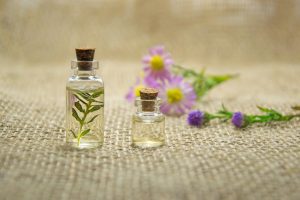 Your body relies on quality sleep to repair and regenerate to keep you healthy. Unfortunately, if you are among the 18 million Americans with obstructive sleep apnea (OSA), a good night's rest isn't easy to come by without any treatment. While a CPAP and oral appliance can open your airway to prevent interruptions in breathing, there are also natural remedies that may help you get the rest you need. Essential oils are a popular remedy for improving sleep issues, but can they improve your OSA? Here are 3 essential oils that can help you get a better night's sleep. 
Best Essential Oils for Sleep Apnea
Essential oils have been used for centuries for a variety of health alignments. Compounds extracted from plants provide therapeutic benefits, such as mood improvement and relaxation. The aromatic compounds are also a natural way to promote sleep for patients with certain conditions, like OSA. The aroma triggers the production of endorphins and serotonin in the brain.
Serotonin helps produce melatonin, which signals the brain that it's time to sleep. Endorphins enhance relaxation to make it easier to doze off. Several essential oils have been shown to improve sleep quality, but here are the top 3:
1. Peppermint Oil
Peppermint oil can enhance your brain's functions to better your mood because it encourages fewer sleep disturbances. You'll boost your sleep quality to feel your best.
2. Lavender Oil
Lavender is well-known for its positive effects on sleep. Many small studies have found that it can also reduce sleep disturbances to ensure you get the recommended 7-9 hours of rest each night.
3. Eucalyptus Oil
Eucalyptus oil can help keep your airways open to make it easier to breathe. It can reduce mucus in your sinuses and airway to minimize any obstructions while sleeping. Besides inhaling the aroma, gargling with it can also decrease snoring.
Using Essential Oils for Better Sleep
Essential oils can be used in several ways, including topically and defused. You can also apply a few drops to a warm towel and place it over your nose for a few minutes while inhaling deeply. If you prefer to use them topically, keep in mind they can be harsh on your skin. Dilute them with almond or coconut oil before applying them to your skin. Although the oils can be beneficial, don't eat or ingest them without consulting with a physician.
Sleep Peacefully Tonight
While essential oils can help you breathe and sleep better, they aren't a substitute for sleep apnea therapy. Follow your sleep apnea treatment plan to safeguard your health and quality of life.
About Dr. Angie Nauman
Dr. Nauman earned her dental degree at the University of Nebraska and has completed advanced training in sleep medicine. She is double Board-Certified in Dental Sleep Medicine to offer the latest solutions to treat sleep apnea. If you are ready to cut ties with your CPAP, contact our office today to schedule your consultation for oral appliance therapy.